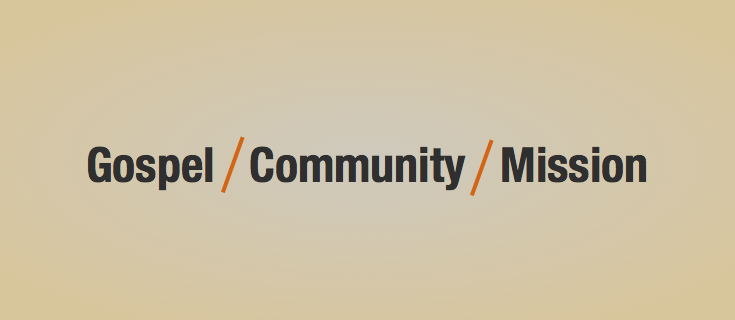 The Essentials
Our prayer for CCMB is that our church would be defined by three essential core values. Taken from the model of the early church in Acts, we have chosen these three Essentials in an attempt to succinctly describe the mission of this church.
Gospel
The gospel is the proclamation that Jesus is Lord and the good news that though the world has rebelled against the Creator God, God set into motion a plan to "buy back" and then transform His people into the image of His Son. This amazing plan was accomplished through the life, death, and resurrection of Jesus Christ. The gospel is the power of God to change lives and restore the world unto God. Because it is the power of God it is the power that will drive everything we do as a church. The implications of the Gospel are numerous, profound, and transforming. Therefore it is through the Gospel that we learn how to love, parent, grow, share, work, and live with others.
Community
God did not set out to redeem "a person" but "a people." Because of this, we see that the Gospel actually creates a new community of people who share in the love of Christ together. This community is what we understand as the Church. With this in mind, we will seek to share our lives with one another and help one another live out the many implications of the Gospel. We will do this through corporate worship, Life Groups, and simply allowing our everyday lives to overlap. Therefore, we will strive diligently for relational unity within the church so that we may display the glory of Christ to the world.
Mission
God's plan to redeem a community of people to Himself through the Gospel also includes that they would be His ambassadors. Thus, we are a redeemed community active in the Mission of God. We will seek to take part in God's mission by seeking to display the Gospel in our families, workplaces, schools, and communities. We will seek to be involved in strategic ways in our community so that we may be a "City on a Hill" that attracts people to Christ. However the message of the Gospel of God must not be confined to our city but must go out to every nation and people group. We will seek to be active with international missions. With this goal in mind we will seek to be a reproducing church involved in taking the love of Christ to the world.